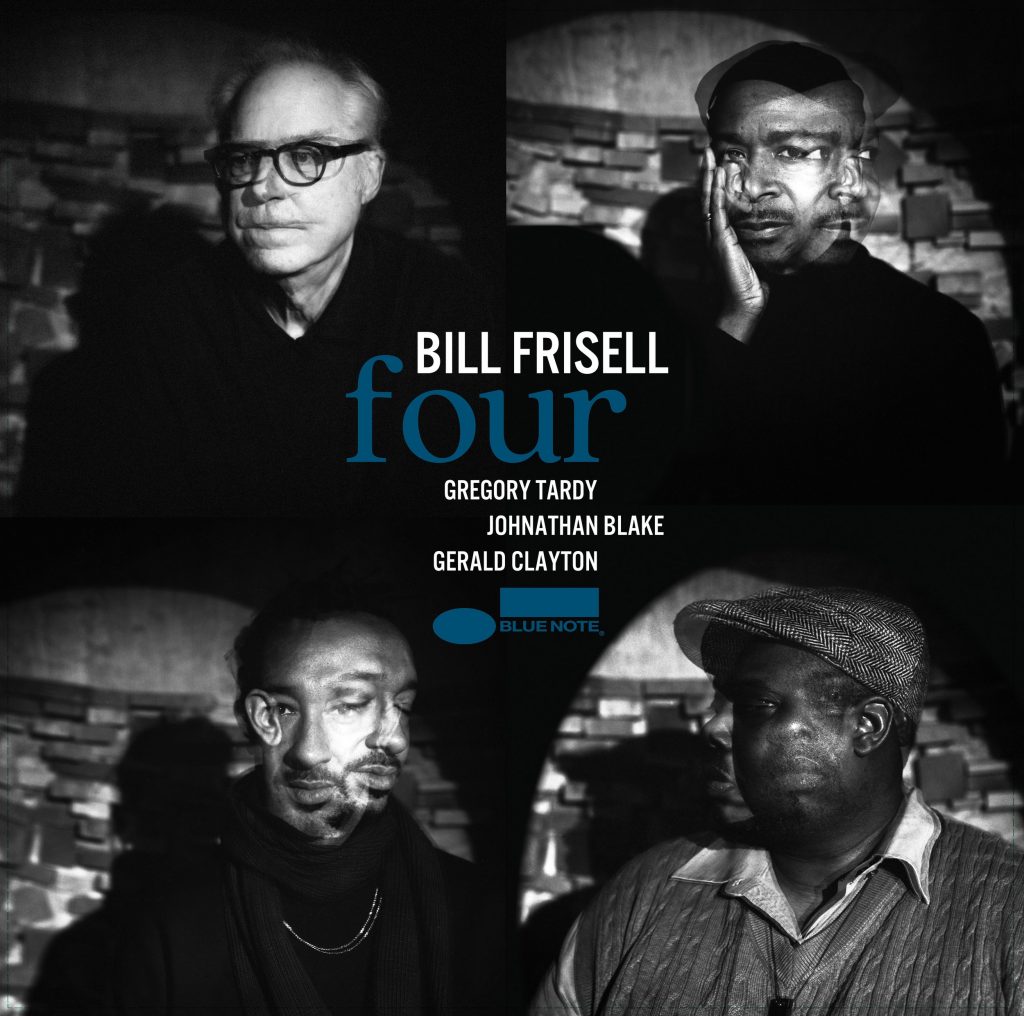 Bill Frisell convenes a new line-up of musical friends on his third Blue Note album Four, which features the acclaimed guitarist with Greg Tardy on saxophone and clarinet, Gerald Clayton on piano, and Johnathan Blake on drums.
Together the foursome delve into intimate explorations of 13 Frisell originals both new and old to create this stunning new work that is a meditation on loss, renewal, and friendship.
1. Dear Old Friend (for Alan Woodard) (2:25)
2. Claude Utley (5:15)
3. The Pioneers (5:43)
4. Holiday (3:47)
5. Waltz for Hal Willner (2:48)
6. Lookout for Hope (5:10)
7. Monroe (6:18)
8. Wise Woman (3:46)
9. Blues from Before (3:49)
10. Always (4:14)
11. Good Dog, Happy Man (3:03)
12. Invisible (4:50)
13. Dog on a Roof (6:42)
Release Date: November 11, 2022
Bill Frisell: Guitar
Greg Tardy: Tenor Saxophone, Clarinet & Bass Clarinet
Gerald Clayton: Piano
Johnathan Blake: Drums
Produced by Lee Townsend
Recorded by James Farber and assisted by David Stoller at The Samurai Hotel, New York, NY
Mixed by James Farber and assisted by Thom Beemer at Reservoir Studios, 36 West 37th Street, New York, NY
Mastered by Greg Calbi and Steve Fallone at Sterling Sound, Edgewater, NJ
Vinyl Mastered byKevin Gray at Cohearant Audio, North Hills, CA
Proudly presented by the Blue Note/Capitol Team: Don Was, Rachel Jones, Cem Kurosman, Justin Seltzer, Melissa Cohen, Alex Anastasi, Michael Cantor, Traci Fuller, Steve Cook, and Eileen Whelehan.
Thanks to Phyllis Oyama, Kevin Lee, Claudia Engelhart, Carole d'Inverno, Don Was, Michael Morris, Luke Bergman, JW Black Guitars, Collings Guitars, D'Addario Strings.
In Memory of Ron Miles.
To dear old friends.