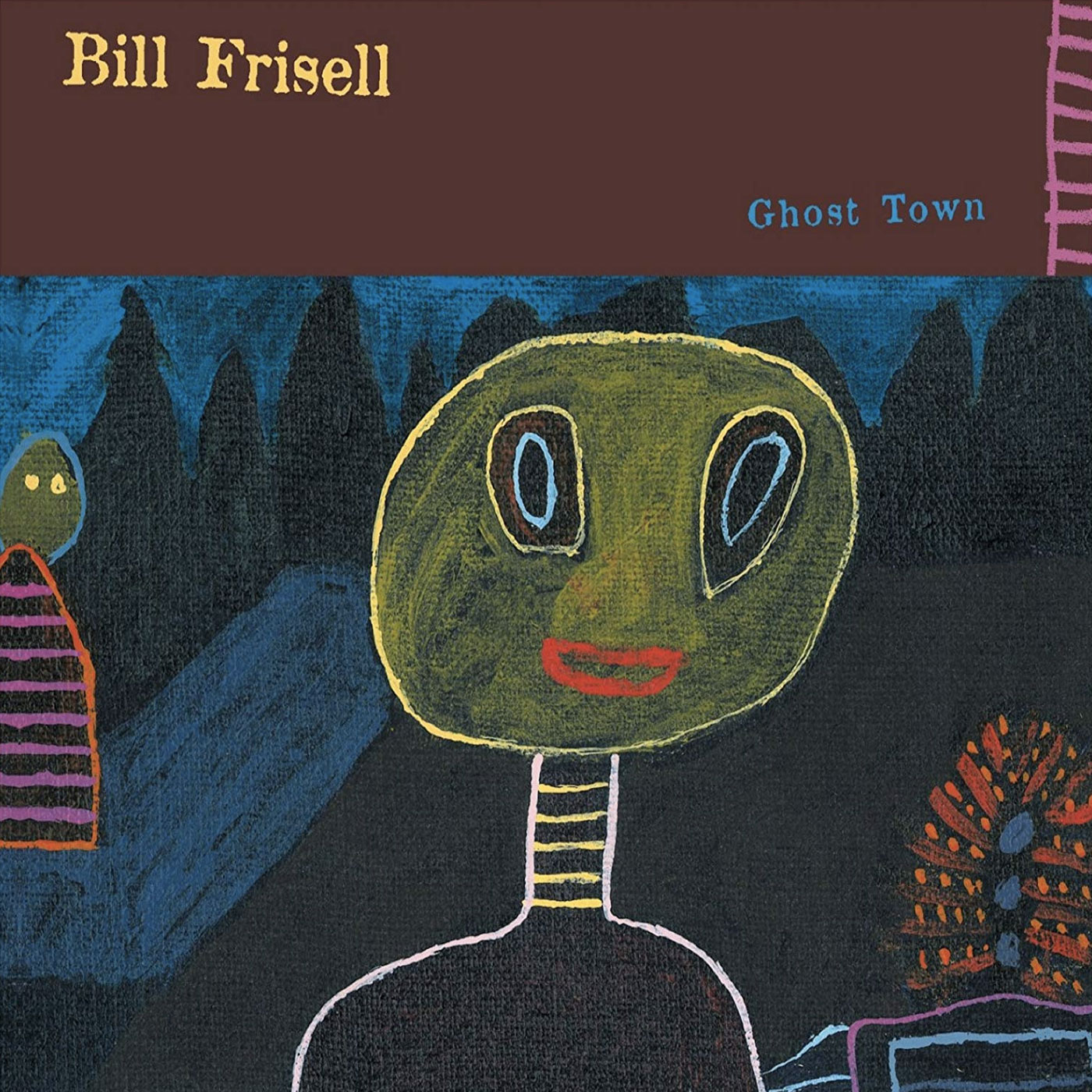 Bill Frisell – electric and acoustic guitars,
6 string banjo, loops & bass
produced by Lee Townsend
recording and mixing engineer:
Christian Jones
mastering engineer: Greg Calbi
All paintings by Claude Utley.
Package design by Gwen Terpstra.
Nonesuch Records
All Compositions by Bill Frisell except Wildwood Flower (Carter Family), Follow Your Heart (John McLaughlin), I'm So Lonesome, I Could Cry (Hank Williams) and My Man's Gone Now (Gershwin).
REVIEWS
Frisell (multi-tracked) builds moody spiraling guitar pieces and alone, where he explores spatial possibilites with a minimalist's ear… a milestone in the career of a true innovator – enchanting as anything he has done and a clear window into his muse.
– CMJ
"Handling all the instruments on Ghost Town (guitars, 6-string banjo, bass, and loops), Bill Frisell merges his head-long dive into roots music with his trademark loops and sonic ingenuity – all to stunning effect. Frisell's compositions run the gamut from pure Americana ("Fingers Snappin' and Toes Tappin'") to tweaked-out soundscapes ("Creep" and "Outlaw"). On the standard "When I Fall in Love," he plays the tune's melody on the 6-string banjo over beautifully comped chords that pulse with slow tremolo. Hank Williams' "I'm So Lonely I Could Cry" receives similar treatment – only this time Frisell picks the tune's mournful melody on acoustic guitar. On "Variations on a Theme (Tales from the Farside)," he kicks in the distortion to solo over a haunting two-chord vamp."
"Frisell and producer Lee Townsend allow each song's individuality to emerge, yet Ghost Town has a coherent sound and mood. Don't miss this amazing, contemplative record by a modern guitar genius."
– Guitar Player
"Bill Frisell's Ghost Town is not a desolate place where hopes blow around like tumbleweeds and memories have dried to dust, but a lyrical Utopia where the one-of-a-kind guitarist can indulge his love of glowing heartland melodies in splendid isolation.
Taking a break from the illustrious crossover bands with which he has traveled through Nashville and other roots-music intersections, Frisell goes solo on a collection of originals, country staples and popular standards. The bright, vibrant sound he and his longtime producer Lee Townsend get from his layered picking and strumming lights up the room. The plaintive beauty he coaxes from the songs, never breaking a sweat but never relinquishing a meaningful tension on the strings either, can light up your life.
Frisell is not one of your newfangled genre-benders. He is less interested in stylistic diversification than locating the ageless underground well in which jazz and blues flow into folk and country. Coming from another artist, rendering the standard "When I Fall In Love" on banjo might smack of musical posturing. But here, lightly embroidered with some overdubbed counterpoint, it is as relaxed and openly romantic as a Nat King Cole vocal. Departing the long, purple night of the soul portrayed by Hank Williams' "I'm So Lonesome I Could Cry", Frisell offers a lucidly understated early-a.m. reverie that finds self-knowingness in being alone rather than tearfulness.
While there is no explicit evidence on Ghost Town of his recent discovery of early string heroes such as Dock Boggs and Roscoe Holcomb, tracks such as "Wildwood Flower" carry the full weight of their back-country blues. For all his optimism, Frisell is hardly a Norman Rockwellian innocent, as one jazz reviewer recently characterized him. There is complex feeling in his reflections of Americana, and, as expressed through his spooky looping, even a dark side."
– No Depression
"Guitarist Bill Frisell has come a long way since his last fully solo album, 1983's "In Line." He has traveled from the cool abstractions of an ECM, avant-jazz sensibility toward a style suffused by the rich, warm sounds and good humor of vernacular Americana. In fact, though filed at retail with Frisell's other jazz-oriented work, the evocatively titled "Ghost Town" has more in common with folk music – even more so than his recent country-tinged masterpiece, "Nashville." Playing acoustic and electric guitars (as well as the occasional banjo) through an array of effects, Frisell conjures off-kilter prairie hymns and bent Appalachian waltzes; in addition to new material, he reprises such original tunes as his theme to "Tales From The Farside" and essays vintage numbers like "I'm So Lonesome I Could Cry" and "Wildwood Flower." One of the fastest-selling Frisell albums to date, "Ghost Town" sounds like a classic already."
– Billboard
5 stars
– Downbeat