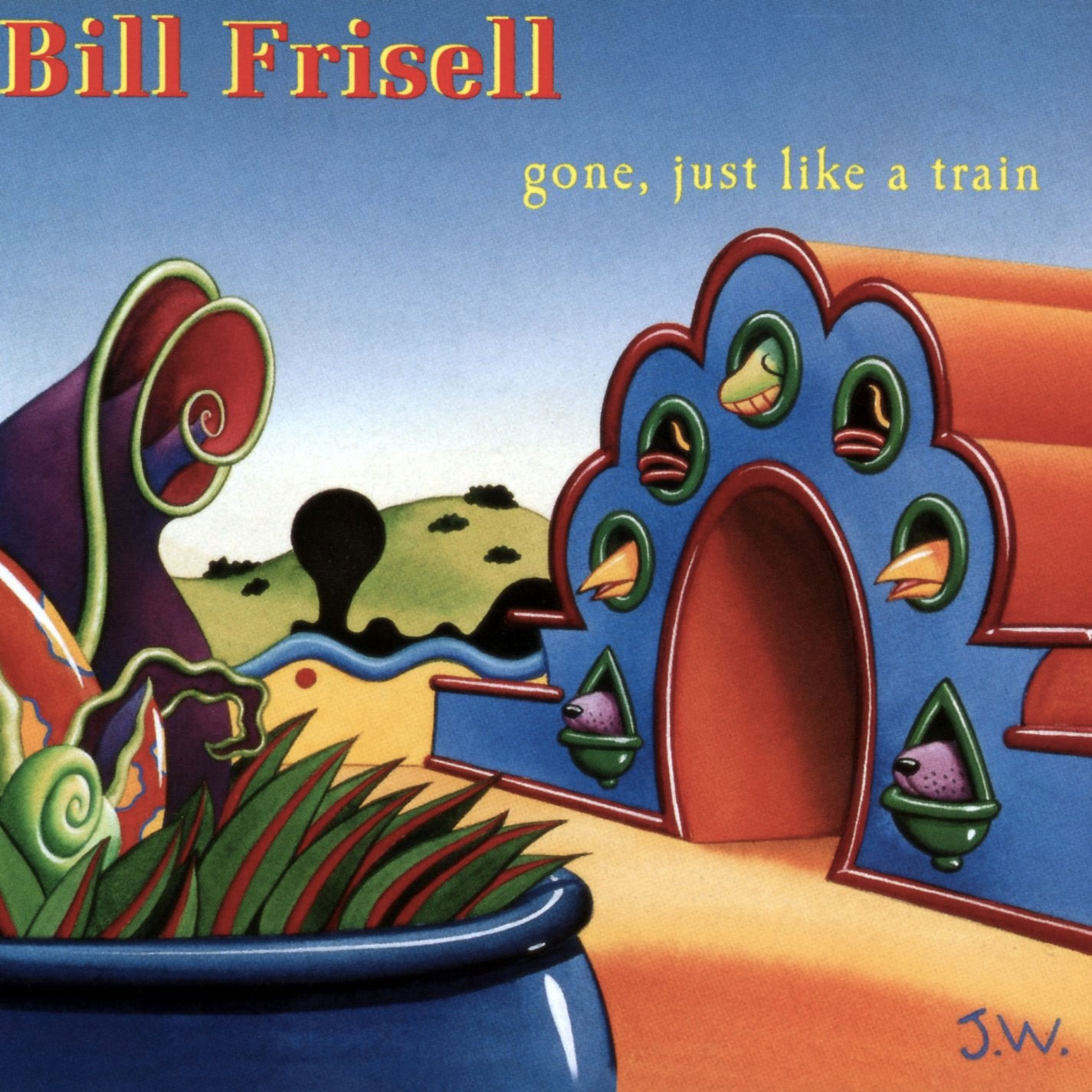 Bill Frisell – acoustic and electric guitars
Jim Keltner – drums and percussion
Viktor Krauss – bass
Produced by Lee Townsend
recording and mixing engineer: Judy Clapp
mastering engineer: Greg Calbi
Nonesuch Records
Art by Jim Woodring
Package design by Gwen Terpstra
All compositions by Bill Frisell
REVIEWS
BILL FRISELL: Gone, Just Like A Train
Bill Frisell, electric & acoustic guitars
Viktor Krauss, bass;
JimKeltner, drums, percussion
Lee Townsend, prod.; Judy Clapp, eng.
Performance *****
Sonics *****
Bill Frisell is a soulful jazz minimalist with a sophisticated sense of harmony, a daring rhythmic approach, and an instantly recognizable, personal sound–as if Carl Perkins and Duane Eddy took on Otis Rush and Bill Evans in a bridge tournament. Every note is carefully sculpted, imbued with a bluesy, lightly Echoplexed halo, and elongated like taffy in a manner suggestive of the enigmatic Peter Green. Upon occasion, Bill will transmogrify into an 800-lb gorilla with a touch of distortion, but more often than not this affable galoot is content to make bricks with straw–a remarkable melodist who can transmute single notes into sapphire tears.
For those more impressed with the meat than the motion, Frisell's floor routine may seem simplistic. Besides, why would someone who can play bebop be so fascinated with bells that jingle-jangle-jingle? So while I doubt that jazzman Bill Frisell is really dead, long live Cowboy Bill.
While Frisell's fellow improvisers have immersed themselves in the sophisticated harmonic cycles of The Real Book, our post-modernist Slowhand has seemingly retreated to Mel Bay's Guitar Method, Level One. One can visualize Mel himself in his inner sanctum, auditioning Bill's brilliant new trio recording Gone, Just Like A Train (blue ital.) and hoisting tankard after tankard of pale ale in praise of this most unlikely of guitar heroes, tears rolling down his cheeks as he cries between hiccups, "G Major, D Major, E Minor–God bless you, Bill!"
In the tradition of Nashville (blue ital.), last year's acclaimed string-bandrecording, Frisell's remarkable new trio on Gone, Just Like A Train (blue ital.) is a cultural whistlestop tour of folk sources that conveys this land's epic rhythmic dynamism, regional diversity, and backwaters of mystery and quiet wonder. It's as if the Modern Jazz Quartet had interpolated Cream. Together with his remarkable collaborators, bassist Viktor Krauss and drummer Jim Keltner, Frisell successfully plumbs a variety of simple expressive forms within the raging seas of intellectual complexity that have traditionally defined the domain of the modern jazzman.
For Stereophile (underline) readers, Gone, Just Like A Train (blue ital.) is a guaranteed five-star dog-yummy for your sound system. Frisell, producer Lee Townsend, and engineer Judy Clapp have done a remarkable job. Few things are more revealing than a trio recording, and each instrument here is rendered with remarkable depth, clarity, and detail. The soundstage is immense and airy, and the mix is notable for the manner in which each tune achieves subtle changes in placement, presence, and perspective while maintaining a consistent sonic viewpoint.
Every tune on Gone, Just Like A Train (blue ital.) is a lyric jewel. For the free formalists among you, there's the extended blowing on "Lookout for Hope," with its intimations of six against four, as Krauss holds down the groove with heroic restraint and a resounding bottom, and Keltner and Frisell engage in bluesy, airborne dialog–as loose and swinging an interpretation of the backbeat as I've ever heard.
Then there's the epic quietude and resonant splendor of "Lonesome," as Frisell evokes a rich tapestry of southwestern imagery with his ringing two- and three-note chords and Johnny Smith-like touch. On "Godson Song" he plumbs the depths of silence with steel-guitar-like swells as Keltner essays broken abstractions of the pulse, while "Pleased to Meet You" and "Girl Asks Boy" are all wide-eyed folkish innocence. And "Sherlock Jr." and the title tune range freely between country and astral before settling just south of the border.
People, get ready–if you love electric guitar, bass, drums, and the real roots of blues, country, rockabilly, and modern jazz, this train is bound for glory.–Chip Stern, Stereophile, April 1998.
Bill Frisell: Bend That Genre!
Ever wonder what Johnny Cash's backup group the Tennessee Two might have sounded like jamming on a tango? You might get an idea from the title track of guitarist Bill Frisell's Gone, Just Like a Train, an album that features the jazz deconstructionist in a bare-bones trio setting with Nashville session man Viktor Krauss on bass and studio rocker Jim Keltner on drums. A country lament that ends up as a tango is just one of the record's surprises, though maybe it's not so surprising from Frisell, a forthright eclectic whose ventures into music other than jazz never smack of pretension or compromise.
In one sense, Gone, Just Like a Train picks up where last year's Nashville left off. Absent this time, however, are the dobros and mandolins that seemed a little superfluous anyway, given the healthy twang of Frisell's guitar. Unlike its predecessor, the new record isn't a genre album so much as a genre-bender. Part of what makes Frisell perhaps the most innovative figure in jazz right now, as well as one of the most readily identifiable, is his ability to mix and match without being a chameleon. One of the tunes here, "Egg Radio," is a semi-reggae; the one right before it, "Nature's Symphony," begins with dollops of Hawaiian vibrato. Yet even a listener unfamiliar with Frisell would have no trouble identifying these tracks a the work of the same guitarist, one who claims your attention immediately with his combination of lyricism and power.
Frisell's trademark as a soloist has always been using feedback and distortion to introspective ends. Without sacrificing his musical identity, he plays a little more forcefully here, thanks in part to the goading of his sidemen. A key to the album's success is the quickness of Keltner's responses to Frisell; the drummer's spry, broken time-keeping in "Lookout for Hope" offers ample testimony to his jazz chops. And in the opening "Blues for Los Angeles" and elsewhere, the rumble of Krauss's bass puts Frisell in touch with this inner Link Wray.
Gone, Just Like a Train is going to be filed under jazz, and it belongs there despite its missed pedigree. But its appeal is wider than that of most jazz records. Like all of Bill Frisell's work, it belongs in your collection whether your idea off a great guitarist is George Van Eps or Jimi Hendrix, Alfred Apaka or John Fahey. Stereo Review
"Frisell has managed to pull together an ad hoc super trio of musicians from drastically different pasts, and together they assemble a machine of colossal proportions: part skewered jazz, part roadside folk blues, part gritty rock…Gone presents Frisell at a creative apex. He's integrated a thoroughly unique understanding of so much American Music…And it's all gift-wrapped in a lean, unimposing trio framework that conveys sheer genius in a million directions… It flies with shining power." The Rocket