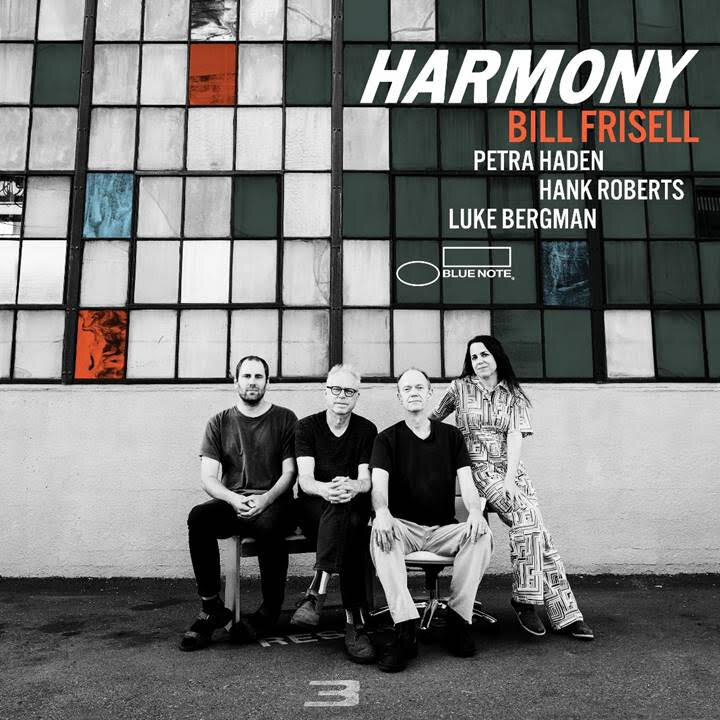 1. Everywhere (Music by Bill Frisell)
2. God's Wing'd Horse (Music by Bill Frisell / Words by Julie Miller)
3. Fifty Years (Music by Bill Frisell)
4. Hard Times (Words & Music by Stephen Foster)
5. Deep Dead Blue (Music by Bill Frisell / Words by Elvis Costello)
6. There In A Dream (Music by Charlie Haden / Words by Jesse Harris)
7. Lonesome (Music by Bill Frisell)
8. On The Street Where You Live (Music by Alan Jay Lerner / Words by Frederick Loewe)
9. How Many Miles? (Music by Bill Frisell)
10. Lush Life (Words and Music by Billy Strayhorn)
11. Honest Man (Music by Bill Frisell)
12. Red River Valley (Traditional)
13. Curiosity (Music by Bill Frisell)
14. Where Have All The Flowers Gone? (Words and Music by Pete Seeger)
Released: 2019
HARMONY is:
Bill Frisell: Guitars
Petra Haden: Voice
Hank Roberts: Voice, Cello
Luke Bergman: Voice, Guitars & Bass
Produced by Lee Townsend
Recorded by Tucker Martine & assisted by Justin Chase at Flora Recording & Playback, Portland, OR
Mixed by Tucker Martine at Flora Recording & Playback, Portland, OR
Mastered by Greg Calbi at Sterling Sound, Edgewater, NJ
Design by Luke Jacobs from Perfecto Creative
Photography by Monica Jane Frisell
Proudly presented by the Blue Note/Capitol Team:
Rachel Jones, Cem Kurosman, Justin Seltzer, Colby Silon, Alex Anastasi, Don Was, Jenna Vitolo, Michael Cantor, Francisco Marmol.
Many Thanks to:
Chris Wadsworth, Olli Chanoff, Rachel Chanoff and everyone at the FreshGrass Foundation. Don Was, Justin Seltzer, Cem Kurosman, Colby Silon, Rachel Jones, Jenna Vitolo, Alex Anastasi, Francisco Marmoland everyone at Blue Note Records.
Phyllis Oyama, Adam Blomberg, Kevin Lee, Wulf Muller, Claudia Engelhart, Carole d'Inverno, Monica Jane Frisell and Bill Nash.
Bill Frisell uses D'Addario strings.
Bill Frisell's HARMONY was commissioned by the FreshGrass Foundation for the 2016 FreshGrass Composition Commission and originally performed at FreshGrass West! in San Francisco, CA on November 12th, 2016.
Quotes
"The eminent guitarist Bill Frisell improvises in smoky ringlets of melody, drawing the influence of classic jazz guitar into a palette based on early American folk music. He has been a noted bandleader since the 1980s, but has never released an album for Blue Note Records, jazz's most illustrious label. That will change with "Harmony," which finds Frisell playing eight smoldering original compositions and a few covers alongside the vocalist Petra Haden, the cellist Hank Roberts
and the guitarist and bassist Luke Bergman."
– The New York Times
Reviews
All About Jazz
By Mark Sullivan – September 27, 2019
Iconic guitarist-composer Bill Frisell has chosen to primarily emphasize the Americana side of his music for his debut as a leader for Blue Note Records. When Frisell organized his new band with vocalist Petra Haden, cellist Hank Roberts and guitarist-bassist Luke Bergman he was struck by the fact that all of the band members but him sang, so their vocal blend became the group's signature sound as well as the inspiration for the name Harmony. Upon first hearing, the album sounds rooted in traditional American music, but in fact eight of the fourteen selections were composed by Frisell.
The set leads off with three of his: "Everywhere" and "Fifty Years" both employ vocals in a traditional musical setting, and it is notable that the first sound is a cappella vocals. "God's Wing'd Horse" (words by Julie Miller) adds lyrics to the mix but, as the title implies, they sound as if they could easily be from a folk song. All three vocalists harmonize with only guitar accompaniment: Frisell solos a bit here, but solos are not the focus in this music. It is an ensemble sound above all.
Stephen Foster's "Hard Times" is the first of the traditional selections, beautifully rendered with only voices and guitars. "Red River Valley" strips the arrangement down to just the three voices; Frisell lays out completely, an impressive commitment to the vocal blend that is the heart of the group. Pete Seeger's "Where Have All The Flowers Gone" gets a very modern arrangement, the mournful subject intensified by new harmonies and a doleful vocal performance by Haden.
The tunes that are neither traditional nor original are an interesting and varied lot. "Deep Dead Blue" is a collaboration between Elvis Costello and Frisell from their album Deep Dead Blue (Nonesuch Records, 1995). Petra sings her late bassist-composer father Charlie Haden's "There In A Dream," an atmospheric noir tune first heard on the Charlie Haden Quartet West's Now Is the Hour (Verve, 1996). Billy Strayhorn's classic "Lush Life" is the one unambiguously jazz entry. It's a beautiful, minimal duet performance by Frisell and Haden.
Frisell fans should have learned long ago to keep an open mind. This album has arguably less of a guitar focus than any previous one. Yet it is suffused with his genre-free love of music, and his guitar-playing remains a foundation element. It's a beautiful group sound, with the name Harmony very well deserved.
Track Listing: Everywhere; God's Wing'd Horse; Fifty Years; Hard Times; Deep Dead Blue; There in a Dream; Lonesome; On the Street Where You Live; How Many Miles?; Lush Life; Honest Man; Red River Valley; Curiosity; Where Have All the Flowers Gone?
Personnel: Bill Frisell: guitar; Petra Haden: voice; Hank Roberts: cello, voice; Luke Bergman: baritone guitar, acoustic guitar, bass, voice.
Original Article HERE
–
DownBeat
By Ed Enright – October 2019
On his Blue Note Records debut, veteran guitarist Bill Frisell documents his latest project, a reflection on the near-magical musical kinships he's forged with various artists during his career. Produced by his longtime collaborator Lee Townsend and recorded by Tucker Martine at Flora Recording & Playback in Portland, Oregon, HARMONY features Frisell in a quartet setting with two longtime collaborators—vocalist Petra Haden and cello player/vocalist Hank Roberts—plus a relative newcomer, Luke Bergman, on acoustic guitar, baritone guitar, bass and voice. It's a cozy configuration that fosters an up-close and intimate vibe centered around the human voice and rooted in jazz, traditional Americana and chamber music.
Throughout the album, Haden's ethereal lead vocals and the trio's quietly powerful harmonies bring new dimensions to Frisell's music, magnifying the pensive beauty and perpetual patience that mark his guitar playing. Originally commissioned by the FreshGrass Foundation (an organization dedicated to the vitality of contemporary American roots music) and performed at FreshGrass West! in San Francisco during November 2016, HARMONY features eight compositions by Frisell, some from his existing catalog and some brand new: "There In A Dream" by the late bassist Charlie Haden (who had deep musical and personal ties to Frisell), Billy Strayhorn's "Lush Life," Lerner & Loewe's "On The Street Where You Live," Pete Seeger's "Where Have All The Flowers Gone," Stephen Foster's "Hard Times" and the traditional "Red River Valley."
The message behind the music is a celebration of a great old American tradition that Frisell fully embraces and clearly articulates in one simple statement: "Let's just get together and sing."
Original article HERE
–
EXCLAIM!
by Josiah Nelson – October 2, 2019
Legendary composer and guitarist Bill Frisell couldn't have found a more appropriate title for his official Blue Note debut; Harmony deftly stitches together many elements that have occasionally complemented Frisell's solo guitar work — backing guitars, cellos and vocals — onto a single record.
While Hank Roberts' cello and Luke Bergman's backing guitar rumble and sing exquisitely with Frisell's guitar, it's their, and lead vocalist Petra Haden's, vocals that most notably alter Frisell's spacious sound — sometimes clarifying its dimensions and at other times clouding them.
Much of Harmony seems to examine what Frisell's been exploring for over three decades: a languid melancholia described and refracted by the steely liquid tones his Telecaster fires out. On opener "Everywhere," he wheels deftly around the track, his inimitable tone both icy and soothing; Roberts' dark thumbing and Bergman's unbound guitar give the track a sense of openness, and Haden's aerial "La-la-la laaa"s are haunting and effortless, like warm sinister breaths.
Frisell's compositions are wizardly in their ability to hold two seemingly opposing feelings or ideas. On "How Many Miles?," in which Haden's voice hums and floats while Frisell needles out frozen-line notes, the tone is simultaneously weightless and disconcerted, content and resigned. Frisell's playful, stargazing riff on "Lonesome" would mock the title if it didn't swim into plaintive harmonics and mercurial notes that bespeak a deep-lined, weary sort of wisdom.
Frisell's guitar tones are effortless in creating this complex, nimble emotional timbre. Haden is almost always able to match this timbre — good examples are the withering jazz club number "On the Street Where You Live" or the mysterious, spacious "There in a Dream" — but on occasion, it's clear that doing so requires strident effort. "Red River Valley" and "Hard Times" rely upon her vocal performance the most, and while they fit Harmony's mood, their effort to evoke is felt more readily and plainly than the one's led by Frisell's guitar.
The work to weave so much together — and do it so well — speaks to Frisell's skill as a composer. His affable, warm nature seeks to connect people, sounds and ideas. On Harmony, Frisell seems to have found just that.
Original article HERE
–
JAZZIZ
by Matt Micucci – October 1, 2019
Harmony is the result of a commission from FreshGrass Music Festival and marks guitarist/composer Bill Frisell's debut as a leader for the legendary Blue Note label. The album is produced by longtime collaborator Lee Townsend and it finds Frisell leading a new, wholly distinctive drumless quartet made up of Petra Haden on vocals, Hank Roberts on cello and voice, and Luke Bergman on guitars, bass and voice. Together, they perform new compositions, imaginatively reworked music from Frisell's own catalog and typically sharp selections of jazz and Americana staples. The result brims with the thoughtful beauty and evocative patience that have long characterized Frisell's playing.
Original Article HERE