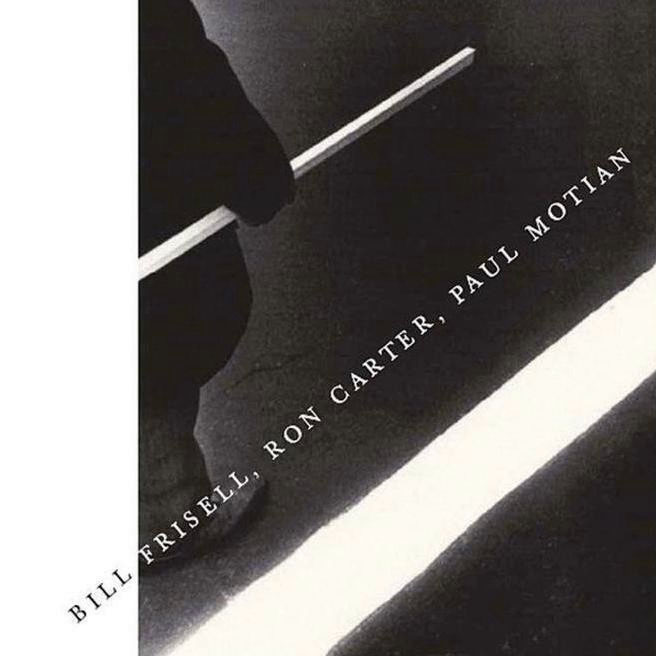 Bill Frisell – guitar
Ron Carter – bass
Paul Motian – drums
Produced by Lee Townsend
Recorded February 14-15, 2005, at Avatar Studios, New York, NY
Recorded and mixed by James Farber
Assistant Engineer: Ross Peterson
Mixed at In the Pocket Studio, Forestville, CA
Assistant Engineer: John Paul McLean
Mastered by Greg Calbi at Sterling Sound, New York, NY
Production Assistance: Adam Blomberg
Design by John Gall
Photography by Ralph Gibson
Nonesuch

REVIEWS
As a departure from his forays into twisted Americana and world music, the inventive guitarist delivers a bona-fide jazz album. The all-star threesome performs like a seasoned band, and Frisell remains the only six-string poet of his generation. – Steve Futterman, The New Yorker Best of 2006
Guitarist Bill Frisell is a master of reflective, quiet but subtly quirky lines that flow from the lyrical to the angular. He can also sling arrows into the mix, but here in the company of two of jazz's greatest rhythm players, Frisell steers away from sudden blasts and settles into the fluidity of cliché-free improvisation. What's remarkable is how untethered the leader and trio play. Ron Carter steers with his unpredictable bass runs, countermelodies and motifs as Paul Motian flicks the cymbals in dance-like support while Frisell muses soulfully through pop standbys like Hank Williams' "I'm So Lonesome I Could Cry" and "You Are My Sunshine," ironically sketched in a melancholic mood. It's significant that the trio delectably covers two Monk tunes ("Raise Four," "Misterioso") given that Frisell is the Thelonious of jazz guitar. —Dan Ouellette, Billboard
The countrified tone of jazz guitarist Bill Frisell leaves a lot of twangy reverb through this rarefied trio collaboration. Yet it still sounds jazzy when the three titans, including uber-bassist Ron Carter and Philly-born stick man Paul Motian, launch into an oddly mesmerizing deconstruction of "You Are My Sunshine" or a take of Hank Williams' "I'm So Lonesome I Could Cry." Mix-and-match is a staple of this trio, and their success can be measured partly in how it all sounds so seamless. These guys provide some persuasive Monk in their hiccupping take of the master's "Raise Four" or the vaulting intervals of his "Misterioso." Yet they also find some gutbucket in the traditional "Pretty Polly," rendered here in an art-house, fractured way. The liquid excursions get oblique by the end. Frisell, who has worked with such '60s icons as drummer Ginger Baker and singer Marianne Faithfull, is a wild card no matter where he shows up, pulling from genres near and far. Yet he and his cohorts end up exploding the definition of a jazz trio. – Karl Stark, Philadelphia Inquirer
"A gorgeous, restrained meeting of the minds, this recording emboides fine, subtle improvisations from three of today's most iconic players."
– Troy Collins, All About Jazz
Despite his deep harmonic language and highly evolved personal sound, enigmatic guitarist Bill Frisell has often been criticized for musical choices that appear to ignore his jazz roots. But he treats jazz simply as one part of a larger musical continuum where Thelonious Monk and Hank Williams can harmoniously coexist. Bill Frisell, Ron Carter, Paul Motian presents him at his jazziest, yet it's still unequivocally a Bill Frisell record, with the broad scope and quirky mannerisms that have defined his career from the very beginning.
Compare Ron Carter and Miles Davis' "Eighty-One" from E.S.P. (Legacy Recordings, 1965) with the version that opens this record. With one guitar, Frisell distills the essential harmonies of a quintet and delivers them without the feeling that anything has been lost. His mastery of elongated notes and seemingly infinite decays creates a rich sound that's appealing, ethereal and often ambiguous.
It's a shame that Carter isn't the first-call bassist he used to be, because here he demonstrates an unassailable groove, muscular sound and big ears on Frisell's "Monroe," first heard on Good Dog, Happy Man (Nonesuch, 1999). But instead of Jim Keltner's firm backbeat, Motian and Carter give it a gently lilting swing.
Frisell's innate sense of humour has always made him an astute interpreter of Monk. Here two blues pieces—the lesser-known "Raise Four" and classic "Misterioso"—are given definitive contemporary treatments. In both cases swing is the thing, but Motian—as off-kilter a drummer as Frisell is a guitarist—creates the subtlest unsettled feeling, despite Carter's firm anchor.
This is also Frisell's most sonically unaffected disc. Motian's "Introduction," from It Should've Happened a Long Time Ago (ECM, 1985), is more direct, with just the subtlest hint of looping replacing the dense guitar synth of the original. Proof that sometimes all you need is the simplest instrumentation to create a wellspring of ideas on songs ranging from the country of "I'm So Lonesome, I Could Cry" to the mainstream "On the Street Where You Live."
Regardless of where he finds his music, Frisell can always be counted on for an odd-angled approach that keeps his musical partners and listeners on their toes. Half the fun is not knowing what's coming next, and Bill Frisell, Ron Carter, Paul Motian may well be the most unpredictable mainstream record you'll ever hear. – John Kelman, All About Jazz
Bill Frisell, Ron Carter, Paul Motian (Aware/Columbia Records): Here is a jazz guitar trio whose members embody over a century of performing experience, yet they become progressively more daring as years advance. Frisell continues his mining of American roots music by evoking haunting tone colors from his inventive electric guitar. His meshing with bassist Ron Carter and drummer Paul Motian is telepathic. The covers of the traditional ballad "Pretty Polly" and the country classic "I'm So Lonesome I Could Cry" are radically transfigured harmonically, yet remain reverently austere. "On the Street Where You Live" reflects the trio's equal adeptness with gleeful Broadway lyricism. Grade: A – Norman Weinstein, Christian Science Monitor
Instead of sporting a catchy album title, this creatively collaborative CD has simply been christened with the names of its three co-creators. With its stress on the musicians' names, the unconventional title is especially significant because the album is all about how these three independent spirits are united here into three voices in one and one voice in three.
Obviously, Bill Frisell's guitar is richly expressive throughout a varied repertoire that hops from Thelonious Monk's mystical "Misterioso" to Hank Williams' teary country classic, "I'm So Lonesome, I Could Cry."
Yet the CD's often serene, sometimes edgy selections succeed primarily as a splendid collective effort rather than as a string of savory guitar solos.
You've got to pay as much attention to Ron Carter's grace on bass and Paul Motian's perpetual motion rhythms on drums as you do to Frisell's flights of imagination. Naturally, you can enjoy listening to each player separately.
But the real payoff here is to simultaneously absorb all three voices interweaving together as these empathetic musicians connect on a deep intuitive level.
"Eighty-One" ambles amiably in a hip cowboy groove – a bluesy view of riders of the purple sage. "You Are My Sunshine" is warm and luminous. Monk's saucy "Raise Four" is seasoned with brilliant capers.
And "On the Street Where You Live" is renovated with fresh designs and brilliant corners that revitalize the old neighborhood. – Owen McNally, The Hartford Courant
What, I've often wondered, sets Bill Frisell so far apart from the jazz-guitar pack — besides his inimitable watery tone, sonic escapades, genre-hopping and depth of melodic and harmonic ingenuity? The answer, as far as I'm concerned, is quite simple: Frisell brings far more emotion and mood to his playing than his contemporaries and most of his forebears. When he performs Hank Williams' "I'm So Lonesome, I Could Cry," which closes out this trio album, the guitarist renders it as the genuinely sad song that it is. When Frisell and his legendary mates — drummer Paul Motian and bassist Ron Carter — tackle "On the Street Where You Live," it's with a dose of whimsy and lighthearted swing. While last year's double live set displayed the many sides of his eclectic musical personality, this one hews closer to jazz, albeit through Frisell's fisheye lens. (The disc will never be confused with Wes Montgomery.) Frisell loves to take material regarded as schlock and plumb for beauty and depth. This year's model is "You are My Sunshine," which the trio imbues with a languid sense of melancholy; the guitarist sprinkles in cagey dissonances, not for irony's sake, but to show that such a tune can be given a measure of gravitas. Most of the 10 selections (including Monk's "Misterioso" and "Raise Four") skew to slow to medium tempos. Motian's loosey-goosey drumming provides the trio plenty of room to roam, while Carter's bass brings a distinct muscularity. Frisell judiciously sprinkles in loops and effects, which easily transcend gimmickry; his phrasing is at turns fluid, contemplative and bracingly choppy. Frisell's playing is devoid of stuntwork, all but free of showiness — this is a musician of the highest order whose instrument happens to be the guitar. 4 stars –Eric Snider, CreativeLoafing.com