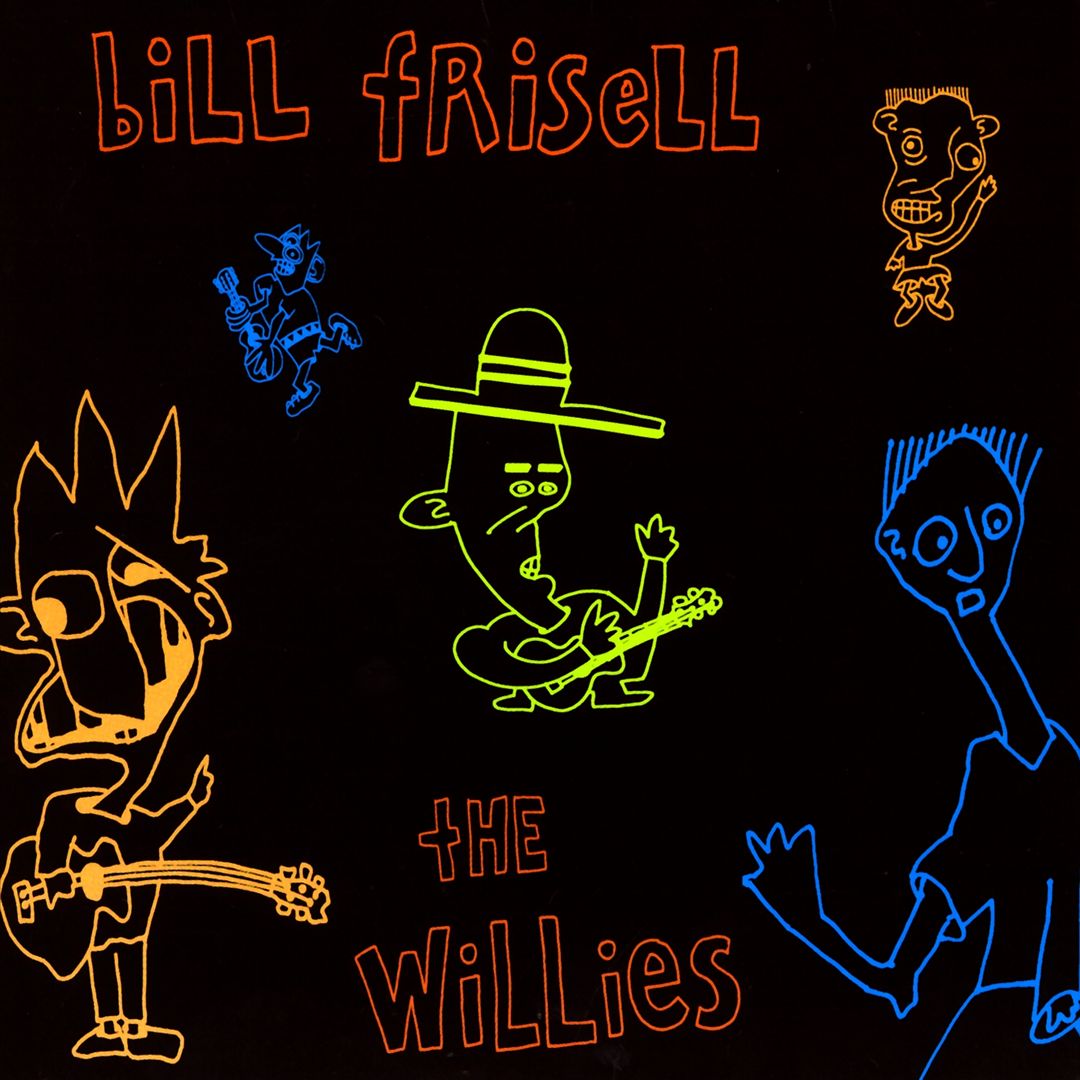 Bill Frisell – electric and acoustic guitars, loops
Danny Barnes – banjo, acoustic guitar, bass harmonica, pump organ
Keith Lowe – bass
produced by Lee Townsend
recording and mixing engineer: Tucker Martine
assistant engineer Adam Munoz
mastering by Greg Calbi
Nonesuch Records
Cover Art by Bill Frisell
Design by Gwen Terpstra
All Compositions by Bill Frisell (Friz-Tone Music/BMI) except "Sittin' On Top of the World", "Chuck Old Hen", "Sugar Baby" and "Blackberry Blossom" (Traditional);" John Hardy Was a Desperate Little Man" and "Single Girl, Married Girl"by A.P. Carter (Perr International Corp./BMI); "Goodnight Irene" by Huddie Ledbetter and John A. Lomax (Ludlow Music/BMI) Henry Mancini and "Hard Times" by Stephen Foster
REVIEWS
With every new release now, Bill Frisell seems to delve deeper and farther back into the historical recesses of the American musical psyche, discovering there forgotten or half remembered sounds or archetypal phrasings that resonate deep within the human experience. This is music that you feel you have always known and yet have never heard before, like some treasured memory of an event that hasn't happened yet.
And yet within this given framework of familiar old country, blues and folk melodies it is the sheer brilliance of the playing that etches itself on the memory. Brilliance in two senses: the beauty of the restrained guitar and banjo picking on show here and the utter clarity of the sound produced. It is firmly rooted in the simplest of musical gestures and yet manages to build, intricate layer by intricate layer, into a manifestation of ethereal timelessness.
This is at once a clear definition of Frisell's modus operandi and attention to infinitesimally small detail and also a new direction back into the future. There will be comparisons with his Nashville album but these will be misplaced. That album was a celebration of the discovery by Frisell of a whole new genre that he could explore with relish and of new players with fresh ideas that he could share in and the resulting album radiated pure joy. Apart from some specific generic borrowings that is where the resemblance ends. The Willies has far less appreciable artifice than Nashville (ie: high octane picking from the likes of Jerry Douglas on dobro) and much more specific emotional simplicity. If you are familiar with the music of Doc Boggs or Roscoe Holcombe from their Smithsonian Folkways recordings this will be self evident. If not, it has to do with the phrase associated with Holcombe's playing: that 'high and lonesome sound'. It is both mournful and melancholic, without sentimentality and rooted in the harsh realities of survival yet refusing to relinquish faith in a better hereafter. This is the essence that Frisell captures with unerring accuracy.
Three musicians contribute: Frisell on a variety of electric and acoustic guitars and loops, Danny Barnes on banjo and guitars and Keith Lowe on bass. All three play with a familiarity bred out of respect for a common musical heritage and a zeal for travelling in undiscovered country.
The quality of sound is so paramount to this project and so intimately articulated that Lee Townsend, Frisell's long-time producer, has to be considered as an essential fourth band member. It is to his great credit that every sound, every nuance and every single note has weight, integrity, balance and harmony.
The old tunes, 'Goodnight Irene'or 'Cluck Old Hen' for example, are simply stated and there is little deviation from the melody Frisell choosing to improvise around them with sparse and uncluttered phrasing. This liberates him completely. Every note counts and nothing, absolutely nothing, is thrown away. Simple songs, simply stated: this is only the start. Layers of sound, sometimes the merest breath or a hint, are painstakingly added. It may be a loop, an echo, a single note or reverberation or a repeated phrase on a different instrument with a different texture. It may be the scratch of a single banjo string or the squeak of finger on fret. All seems to have equal importance, equal right to be present. Yet these layerings are so carefully administered that the resultant composite feels totally natural, almost subliminal, and the listener is quite capable of discerning each separately. Curiously, this has the opposite effect to feeling artificial (even though you know this is constructed) and feels absolutely organic like the varying strata of age-old rock formations.
Textural differences are important too. Danny Barnes banjo playing is revelatory. Harsh, scratchy and almost naive at times it sounds more like a koto than a banjo and has both an unnerving and soothing feel. Using it as a rhythm instrument to initiate and underpin most of the tunes gives them a gritty and basic foundation full of tension on which to build far more sonorous and esoteric soundscapes in typical Frisell fashion. The music unfolds at its own pace, nothing is pushed beyond its own, natural rhythm. In far less experienced hands this could verge on the monotonous but Frisell always knows when to inject another twist or loop to open out the musical vista. This is composition of the highest order masquerading as back porch rambling.
The range of guitar sounds seems infinite: big, booming, acoustic dreadnoughts, cheap, thin and tinny archtops and the customary electric surf twang. There are no extended solo outings, Frisell instead choosing to use minor exploratory forays in and around the basic melodic structure giving an almost minimalist build up of repetition.
Keith Lowe is the most unobtrusive of bass players and yet his presence is absolutely essential to the overall sound of this music. You sense him rather than hear him throughout like the murmur of blood in the veins.
This music has no name and needs none. It has a feeling and a remembrance of things past. Call it Bill Frisell music, call it Americana, call it brilliant. – by John Cratchley, The Wire
Perhaps strangely for a guitar player, I'm not actually that fond of guitar instrumental albums. But this onis Something Else. Own up time – I've heard of Bill Frisell of course, but never consciously paid attention: the words 'jazz guitar' are a little too closely associated with the adjective 'noodling' in my sad prejudices. Many irrelevant guitar CDs flit throught these offices on their way to landfill, characterised by smart-arsed picking but with no actual tunes discernible, let alone any roots. I know that not everybody can be Martin Simpson, but…
So, to the CD in hand. What our man does here is tackle a repoertoire of Murkan roots music, mostly ou of the old time/country bracket – trad. standards like "Sitting On Top of the World", "Cluck Old Hen", "Single Girl, Married Girl", "John Hardy" and "Blackberry Blossom", plus Dock Bogg's "Sugar Baby", Leadbelly's "Goodnight Irene", Hank Williams' "Cold Cold Heart" and the like. In a completely different way, it applies the same principle as the mighty Snakefarm did when they so successfully trip-hopped well-known songs from the US folk canon a couple of years ago: go back to the naked song repertoire as a starting point, abandon all preconceived ideas about the way the tunes are 'supposed' to be played, and move them tangentially into a new landscape. Great tunes are great tunes, they don't need a glass museum case.
It's a landscape with some shurbbery that John Fahey, Marc Ribot, Michael Brook, David Grisman. Daniel Lanois and Kelly Joe Phelps might variously feel a little touch of deja vu in. But really this is as truly an original work as you'll find using traditional tunes as the foundation. It's stripped down, but gorgeously full-sounding all at the same time: hats off to producer Lee Townsend. Alongside Frisell's beautifully recorded big ambient electric guitar is the Bad Livers' Danny Barnes contributing old-time mountain and bluegrass banjo and guitar, and bassist Keith Lowe. The trio are almost telepathically relaxed and natural. They have playing chops to scare you to death when you actually analyse what they do, but there's not an iota of needless flash in here and any noodlesque picking is absolutely essential to the texture. And it has lots of texture.
A record that completely gets its hooks in, revealing more and more detail each play. – by Ian Anderson, fRoots Magazine
"This is wonderful music lovingly arranged for a powerful trio, and played delicately. Danny Barnes brings along fellow Codger bassist Keith Lowe (Fiona Apple/ David Sylvian). Recorded in Seatlle at Flora Street Studio with producer Lee Townsend and engineer Tucker Martine, this is a record that is more of a meditation on noted song forms than a musical effort, as such. Standouts and could-be contenders for Best Country Instrumental Grammy nods include "Cluck Old hen", "John Hardy", "Blackberry Blossom",
"Sitting on Top of the World", "Goodnight Irene", or even "Cold, Cold Heart". The originals are just as good.
In all the records that will be released this year, it will be hard to find one that meets all the artistic standards its players set out for, yet remains easy on the ears. The Willies is the best record I have heard this year." Nine X