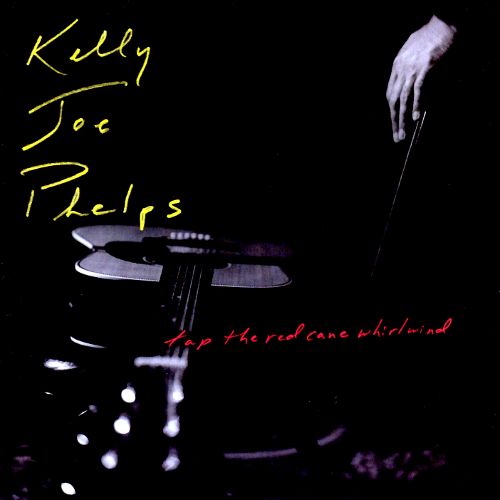 SOLO CONCERT RECORDINGS
Kelly Joe Phelps – vocals, acoustic guitar
1. Hard Time Killin' Floor Blues x.mp3
2. Not So Far To Go
3. Jericho
4. Fleashine x.mp3
5. Cardboard Box of Batteries x.mp3
6. Gold Tooth
7. Tommy
8. I Am the Light of the World x.mp3
9. Waiting for Marty
All songs written by Kelly Joe Phelps (Pilgrim's Way Publishing/BMI, Administered by Bug) except "Hard Time Killin'" Floor Blues by Nehemiah Skip James (Wynwood Music Co./BMI) and "I Am the Light of This World" by Reverend Gary Davis (Chandos Music Co./ASCAP)
produced by Lee Townsend
Recording and Mixing Engineer: Shawn Pierce Mastering Engineer: Greg Calbi
Recorded at McCabe's, Santa Monica, CA
and Freight and Salvage, Berkeley, CA
March, 2004
Mixed at MX Solutions, Vancouver, British Columbia Mastered at Sterling Sound, New York City
Design: Gwen Terpstra
Photography: Michael Wilson
Rykodisc Records
REVIEWS
"Seven albums into his career, the jazz guitarist turned acoustic country blues man has increasingly been balancing old standards an forgotten nuggets with his own material. For 'Tap the Red Cane Whirlwind', his current live album, the only non originals included are Skip James' "Hard Time Killin' Floor Blues" and Rev. Gary Davis' "I am the Light of the World", and while this may not delight the traditionalists it's difficult to raise much cause for complaint when you hear dusty voiced Phelps picking his way through the hauntingly plaintive "Cardboard Box of Batteries" or the melancholic "Not So Far to Go"."
"Over the years, he's graduated to a level on par with the likes of Waits and Springsteen in his storytelling as he weaves his tales of life's bruised hearts in search of their dreams and his fingers slide over the guitar strings like it's God strumming the notes. Frankly even six minutes or so in the company of "Tommy" or "Waiting for Marty" just doesn't seem long enough. Soak up and enjoy." – www.birmingham101.com
"No one could accuse today's generation of new musicians of ignoring the primal call of the blues. But amid the holler and swagger of the new revivalists, the music of Kelly Joe Phelps shimmers like cool water in a desert. Phelps deals in subtlety, intimacy and nuance with expert finesse.
'Tap the Red Cane Whirlwind', featuring just the sound of his flying finger work and world-weary vocals, distills his music close to its very essence."
– Metro (UK)
"A live album from Kelly Joe Phelps to follow the magnificent 'Slingshot Professionals'. With this release, Kelly had a dizzyingly high standard to live up to and he instantly kept me on-side as his captivating (almost hypnotic) vocals carried me through the opener 'Hard Time Killin' Floor Blues'. The album also features an astonishing rendition of Reverand Gary Davis' 'I Am the Light of the World', with the rest made up of favorite Kelly Joe originals. This is one of the most intimate recordings; dim the lights, close your eyes and it almost seems like Kelly Joe is giving you a private personal performance in your living room – a really special listening experience. A truly inspirational collection of songs that will breathe new life into those mistreated speakers."
– Darren Howells, Blues Matters
"Over the course of a half dozen exquisite albums. Kelly Joe Phelps has established himself as one of the most natural heirs to the country blues tradition of Robert Johnson, Skip James and Charlie Patton, his huge natural talent employed without a trace of artifice or archival inertia. In Phelps' hands, the old, hard world of the blues comes vividly alive again, its field hands replaced by the sad, lonely outsiders commemorated in such touching manner in songs like "Tommy" and "Waiting for Marty", and its wandering hobos substituted for by the carnies and grifters adrift in a world they don't control in "Not So Far to Go". This live album features his nimble fingerpicking and hickory-smoked groan on all original material apart from the Rev. Gary Davis' "I Am the Light of the World" and a leisurely but involving version of Skip James' "Hard Time Killing Floor Blues". His own songs are full of striking, resonant images, delivered in the weatherbeaten tones that effortlessly evoke a sense of weariness and loss."
– The Independent (UK)
"The transition of Phelps from acoustic blues copyist to audaciously original singer-songwriter has been thrilling to behold. His first live album captures him in both styles, with jaw-dropping covers of "Killin' Floor Blues" and "I Am the Light of the World", plus seven of his own compositions, which illustrate his rare ability to create memorable characters and compelling narratives in half a dozen verses. In little over an hour he draws you into the world of his songs to the point where everything else ceases to exist." – Nigel Williamson Uncut (UK)
Poet of the Badlands
"When you listen to 'Tap the Red Cane Whirlwind', the badlands of South Dakota come to mind: scorched plains, tumble-down barns, and scrawny dogs lolling aimlessly in the sun. Phelps is an man with lyricism deep within his bones, a poet to rival Tom Waits and possibly even Cohen and Dylan.
The musicianship can be rated just as highly. Phelps's guitar playing is exquisite." – Red Popper (UK)
There are few artists who offer the raw sincerity and accomplished musical acumen that guitarist, singer and songwriter Kelly Joe Phelps does. From his first offering, "Lead Me On", on the Burnside label through his subsequent studio outings for Rykodisc, Phelps has done something remarkable: forged himself a solid identifying mark as a folk and blues musician of distinction in fields that owe so much to the past latter day performers are usually crushed under the weight of them. Tap The Red Cane Whirlwind (blue ital.) is a collection of solo live performances recorded in California in 2004. Lee Townsend who has long been affiliated with him, produced the set. It opens with a nine and a half minute version of Skip James' "Hard Time Killing Floor Blues." Phelps snakily moves the tune through various modes and modulations, delving deep into Delta blues tonalities and backside melodies that open up spaces inside it. His voice, smoky and sweetly raspy is never harsh, though it often sounds like it is inhabited by ghosts. It's a stunner. The other cover here is a smoking version of the late Rev. Gary Davis's "I am The Light Of This World." Dignfied, soulful and spot on musically, Phelps is a dynamite guitarist who adds, subtracts and morphs figures onto the original fingerstyle lines, and uses his voice to offer evidence of the timelessness of the lyric. And as moving and virtuosic as these two performances are, it's his own songs that offer the true prize of this collection. There's "Jericho," with its spooky droning bassline just under some slippery, winding fingerstyle playing, all of it support a vocal that comes from some lost world, just beyond the pale to impart a tale from antiquity that weighs heavily on the forbidding present juncture. The stinging folk blues of "Gold Tooth," showcases Phelps ability to make the strings literally dance as his singing tugs at the end of lines while driving others deeper into the spectral groove. The tenderness inherent in "Waiting For Marty" is elegiac, full of sepia tones and the notion of bittersweet memory. Here is the place where longing, regret for a life squandered and the acceptance of things as they are, even as they drift away into ether and invisible history, is, literally, unlike any other song out there. Simply stated, if there is one recording that captures the sum of the magic, power, and poetry that is Kelly Joe Phelps, this one's it. – Thom Jurek, All Music Guide
"Like the sound of some impossible invention built from theremin, pedal steel, saw, omnichord, sitar and the whir of hummingbirds, the sound of Kelly Joe Phelps' guitar has no derivation and no blueprint, save his own soul. He sings with an urgent, slurred whisper (like he hears the law outside the juke-joint door), and he writes songs — sometimes visionary, mostly sustained by the holy blues — with creative gravitas that's soaked in all the experiences of a life deeply lived. One doesn't expect such lyrical and vocal talent from virtuoso guitar improvisers. Like Tom Waits and Townes Van Zandt, Phelps reconfigures the blues with every pluck and breath. Like no one else filed under "folk," he creates his own tradition." By Roy Kasten, Riverfront Times
On his last couple of albums, Kelly Joe Phelps had moved from the solo work of his earlier efforts to fronting studio bands. On this first live album of his career, Phelps is back in a solo setting playing longer, extended versions of songs like "Jericho" and "Fleashine" from the band albums. As always, Phelps¹s guitar playing, rooted in the styles of the old blues masters and tempered with a jazz-like improvisatory imagination, hypnotically pulls the listener deeply into his often-impressionistic lyrics. Phelps also stretches out on long renditions of Skip James¹s Hard Time Killin¹ Floor Blues and Reverend Gary Davis¹s I Am the Light of the World that demonstrate his deep-from-the-well understanding of traditional blues and gospel music.
****1/2 — Mike Regenstreif, The Montreal Gazette