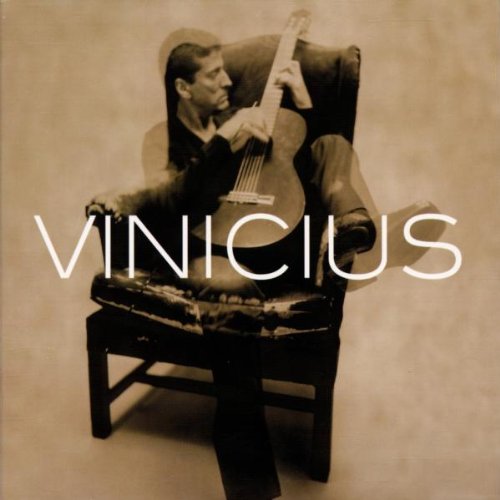 1. Cliche do Cliche x.mp3
2. Ela e Carioca x.mp3
3. Agua Rasa x.mp3
4. Ordinaria
5. Quase Choro
6. Rio
7. Normal
8. Nova de Sete
9. Irapuru
10. Caju
Vinicius Cantuaria – vocals, guitars, percussion, keyboards
with guests:
Caetano Veloso – – vocal on Agua Rasa
David Byrne – vocal, guitar on Rio
Bill Frisell – guitar on Ele e Carioac, Quase Choro and Nova de Sete
Brad Mehldau – piano on Quase Choro and Nova Sete
Marc Johnson – bass on Ele Carioca, Quase Choro, Nova de Sete and Caju
Joey Baron – drums on Cliche do Cliche, Agua Rasa, Rio, and Caju
Paolo Braga – drums, percussion on Ela a Carioca, Ordinaria, Normal, Irapuru, and Caju
Jenny Scheinman – violin on Cliche do Cliche, Oridinaria, Normal, Irapuru and Caju
Michael Leonhart – trumpet on Ordinaria and Rio
Peter Scherer – keyboards on Normal
produced by Lee Townsend, Soli and Vinicius Cantuaria
recording engineers: Soli and Joe Ferla
mixing engineer: Joe Ferla
mastering engineer: Greg Calbi
additional recording by Stewart Lerman, Adam Muñoz, Tucker Martine, Walter Costa, Soli and Matthew Kane.
TransparentMusic
REVIEWS
Maybe the changes started when Caetano Veloso cut "Billie Jean," more than 15 years ago. The sensual poets of poise were coming north from Brazil, messing with the doctrines that long controlled bossa, samba and their offshoots. "We lust/art glows/the evening falls," Veloso sang a cut or two before uniting Michael Jackson's chart-topper with Paul McCartney's "Eleanor Rigby." Heads turned, and the modernization process has continued ever since. Spin through recent jewels like Bebel Gilberto's Tanto Tempo, Marisa Monte's Memories, Chronicles And- Declarations and Moreno Veloso's Music Typewriter and you'll hear one of the globe's most recognizable roots musics being gracefully psychedelicized. Over the last five years, Vmicius Cantuaria has also added some very tasty stimulants to the punch bowl.
With a past in pop songwriting and a resume that includes a stint as a Rio rock star, Cantuaria's positioned himself as a futurist from fue get-go. 1996's Sol Na Cam introduced him to American audiences, and Alto Undsay's produc- tion-fue subtle threading of gnarled atmospher- ics through meticulous samba designs-helped establish his latest approach. 1999's Tucuma cul- tivated such experiments, but Vinicius is his most seductive disc so far. Balancing aura with melody, Cantuaria creates an erotic song cycle enhanced by experimentation.
The music's level of intimacy is acute. Bossa nova and samba do fueir jobs in a hushed way, of course. Part of their attraction is fue fact that, in the hands of experts, it only takes a murmur and a strum to elicit a visceral response. Cantuaria doesn't change fuat part of the deal. Caetano Veloso sings on "Aqua Rasa," and his exchanges with his partner are all breathy utterings. At one point a question is raised in the lyrics: "Where did sound go?" The picking of a guitar in the background sug- gests a tide pool filling up.
A stellar cast assists fue leader furoughout the record. David Byrne coos, Bill Frisell glis- tens and Brad Mehldau tinkles. But no musician contributes as much or impresses as deeply as Cantuaria himself. Half of the enchanting "Clich~ Do Clich~" is given over to fue guitarist's fuoughtfully parsed ruminations. A stretch of oddly arranged notes, all plunked in the lower register, all judiciously chosen without being fussed over, circles back on fue subject at hand: a warning against prosaics swamping a romantic relationship. Cantuaria has definite thoughts about how his music should be built, and again and again, one action tips off anofuer.
Counterpoint is one way Cantuaria beats the old school system. "Ordinaria" has a galloping cadence provided by Paulo Braga's brushes as well as some well-placed fuumps by the boss's bass keybs. But the tune itself-meaning the melody ~d the song driven by the melody- has a drifty feel. It floats. Behind that push/pull feel is Jenny Scheinman's earthy violin drones, italicizing various sections of the verse. The effect is sinuous and kaleidoscopic. The shifts are built into fue forward motion.
Such strategies prove why arrangements are at fue center of Vinicius. Cantuaria demands his unusual instrumentations and computer quack- ery unite to enrich the mood at hand. Surprisingly, he doesn't miss once, and that impressive success rate tells us fuat orthodoxy is ready for a good goosing every once in a while. -Jim Macnie
**** Downbeat Magazine – June 2001